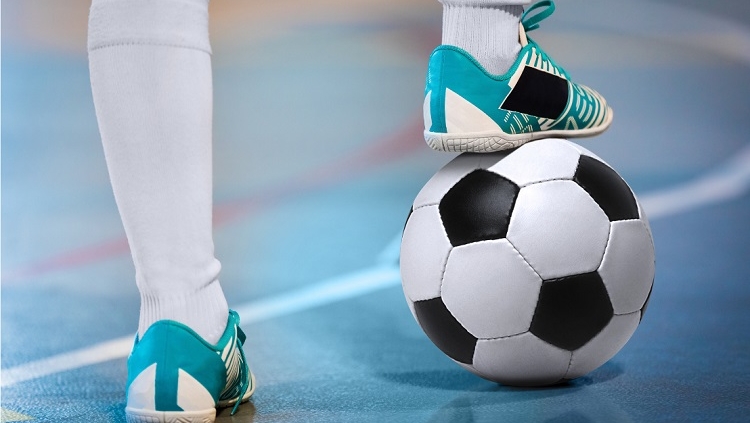 The new sports hall opening January 21 will considerably enhance capacity for a number of our popular indoor sports, including Futsal. So what's Futsal? Well, the name is derived from from Spanish fútbol sala or fútbol de salón and from Portuguese futebol de salão. Translated it means "indoor football". According to the Portuguese footballing legend, Cristiano Ronaldo, Futsal made him the player he became ..and maybe still is! Recognised by UEFA, FIFA and the FA, Futsal began in the 1930s and is now popular across the world.
What you need to know
Essentially, it's a simplified, quicker, indoor version of the great game. Less rules (including no offside), a faster pace, smaller pitches and only 5 players-a-side. The emphasis is on technical skill and close control of the ball.
Some other details concerning how the game is typically set up, is as follows:
– The goals are hockey sized
– The football is a size 4
– Games are 20 minutes per half, with a time stop for every dead ball
– Each team can have one timeout of 60 seconds in each half
– Up to 12 players from each side can play, with rolling substitutions allowed throughout the game
– There are kick ins instead of throw ins
Great for fitness
Anyone who has ever played the game, will know it's a fabulous workout. A typical game switches swiftly between defending and attacking, and then back again. Catching your breath can be tough! The nature of a smaller team means more time on the ball, and opportunities to move around a number of positions. Watch out for the lazy ones that tend to attract the goal hanger label! Of course, one of the major advantages, in this British climate of ours, is that we can play the game indoors.
Local clubs and more informal groups of friends will regularly hire a futsal pitch at Tring Sports Centre. If you're not already involved but would like to be, just call us at 01442 953 895 or drop us a line: enquiries@tringsportscentre.org and we can put you in touch with a group. Alternatively, why not just get your own group together? Remember, you only need another 9 mates.
https://tringsportscentre.org/wp-content/uploads/2021/10/Futsal-750x350-1.jpg
494
750
Nick Wake
https://tringsportscentre.org/wp-content/uploads/2019/04/logo-1-1.png
Nick Wake
2021-10-14 09:15:39
2021-11-05 16:46:24
Futsal Fun is no walk in the park